Rwanda Region:

North

Often called the "Northern Circuit", Northern Tanzania offers by far the most popular wildlife parks in Tanzania.

In fact, if you start paying attention to those wildlife programs on tv, you're likely to realize that most of them were filmed in Northern Tanzania, especially Serengeti National Park.

There are 5 major parks in Northern Tanzania and even the least-popular are quite impressive in their own right.

The vast majority of Tanzanian tour operators are based in Arusha, a city in the heart of the Northern circuit and so Arusha is the base for most Northern Circuit safaris.
Pros of the Northern Circuit:
The Serengeti & the wildebeest migration.
The nearby international airport.
Proximity to Kenya (and Nairobi's very busy and popular airport)
The abundance of wildlife (other parks have this too)
Ease of travel (many of the roads are either paved or relatively well-maintained)
Wide selection of accommodation options, leading to a wide range in price options
Animals are quite accustomed to safari vehicles so it's easy to get quite close to them without disturbing them.
It is easy to do a northern circuit tour without changing vehicle or guide.
The roads are passable year-round.
There are many opportunities for cultural interaction and a variety of activities that get you out of the car.
There is really only one potential drawback/con to the Northern Circuit: The Northern parks get substantially more visitors than the Southern or Western.
This means that there may be more people around, especially in the Ngorongoro Crater. However, the parks are quite large and if private viewings are a priority, a good safari guide should be able to get away from the 'crowds' and still find the animals.
Northern Tanzan is full of beautiful terrain and some of the most spectacular views in the country.
Visit Northern Tanzania below.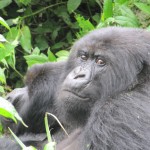 Volcanoes National Park protects the Rwandan portion of the Virunga Mountain Range which runs along the Ugandan, Rwandan and Congolese borders. The entire range is comprised of six extinct and three active volcanoes, and is home to more than half of the world's population of the famed yet endangered mountain gorillas. Read More